Are you looking for the Rain 5G coverage map? South Africa's data only network Rain has one of the most extensive 5G coverages in the country. Their 5G offerings are affordable. If you live in an area that has coverage, then you should definitely move over to Rain 5G. This is a fixed broadband offering, meaning you should only use it in an office or at home. But which areas does Rain 5G cover?
Which areas in South Africa are covered by Rain 5G?
The following is the Rain 5G coverage map for the whole of South Africa;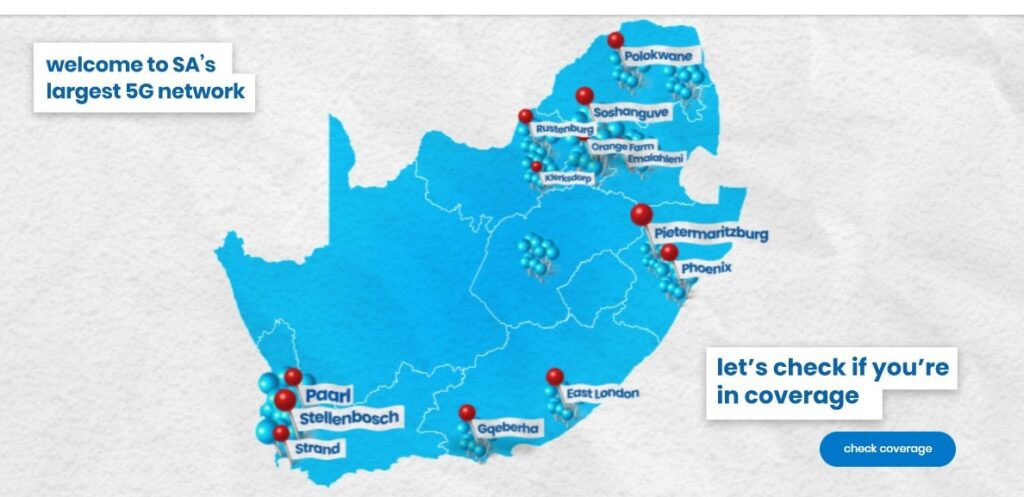 How to check whether your area is covered by Rain 5G
That's the latest Rain 5G coverage map. But how can you check if your location is currently covered by Rain 5G? The good news is that Rain provides a tool on their website that simplifies the process of finding out whether or not you are covered.
Simply go to the Rain coverage page. Enter your address and press on the enter button. You will see whether or not there is coverage in at your location.
Which areas in South Africa are covered by Rain 5G?
In this post, we showed you the current Rain 5G coverage map. This map is subject to change as more areas are added. So, you should go to the Rain website to find the latest coverage map. But which areas are currently covered by Rain 5G? The following are some of the areas that are covered;
Western Cape
Paarl
Stellenbosch
Strand
George
Eastern Cape
KZN
North West
Gauteng
Vanderbijlpark 
Vereeniging
Midrand
Johannesburg
Boksburg
Pretoria
Mpumalanga
Limpopo
Why Rain 5G?
Rain has grown over the years to become one of the country's biggest mobile broadband companies. That's surprising for a company that was relatively late to the scene. Each day, the company adds thousands of new customers.
It's worth noting, however, that Rain also has an astonishing attrition rate. Our article on how to cancel your Rain account gets hundreds of hits per day. The major reason why people seek to leave is because the 4G network can be patch and congested.
That's not the case for the 5G network. It's still speedy enough to make downloading and streaming a breeze. In terms of speed, the lowest priced Rain 5G package promises speeds of up 30Mbps. That's more than enough for most uses. By contrast, the 4G for any device plan offers speeds that are limited to 10Mbps.
Summary
In this article we showed you the Rain 5G coverage map. We noted that you can check whether or not your particular place is covered on the Rain website.
We also listed the places where Rain has 5G coverage by province. As you can see, Rain coverage is mainly in Gauteng. This is followed by Western Cape, where Paarl is the latest area to get coverage.
In Limpopo, Rain 5G coverage can only be found in Polokwane. Meanwhile, in Mpumalanga, coverage is in Middleburg and Emalahleni.
It's important to note here that Rain continues to grow. So, our map will likely become outdated in a few months. It's possible that within a few years, Rain will have 5G coverage in most of the country's major population centres.