Do you wish to learn how to activate your Rain SIM card? Rain has been making waves over the past few years, driven by their "unlimited" data offer. We have previously answered the question, "does Rain have a data limit." That is another story altogether. Anyway, if you have just bought a Rain SIM, you will be looking to start using it. But how do you do that?
How to start using Rain SIM card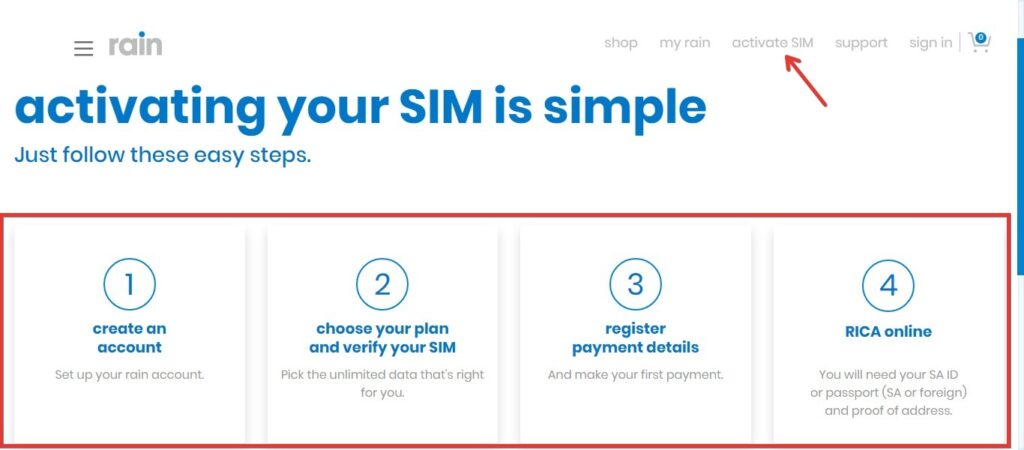 The following is how to activate the Rain SIM card that you bought from Takealot or from any other authorized seller;
First, you need to visit the Rain website.
On the home page, you will see that there is an activate SIM option among the menu items. You can see what we are talking about in the above screenshot.
On the next page, you are shown the steps for activating your SIM. Click on the Get started button to start the process of activating your Rain SIM.
You will now need to create a Rain account.
Next, you will have to choose a plan and verify your SIM.
From there, you will be required to register your payment details.
Finally, you will need to RICA your Rain SIM online.
How long before my Rain SIM is activated?
That's how to activate your Rain SIM. As you can see, it's a pretty straightforward process. You will be done in half an hour or less. So, you have gone through all the steps given above, and you cant wait to start accessing the internet using your Rain SIM. But how long does it take before your Rain SIM card gets activated?
It takes about 2 hours for your Rain SIM card to become active once you have done everything outlined above, including RICA registering your SIM online.
But how will you know when the process is complete? Well, you will receive an SMS telling you that your Rain SIM Card is now active. You will also receive a message via email telling you the same. It's also possible to check your SIM's activation status online using the My Rain dashboard.
What's next?
Once you have received a message that your Rain SIM is now active, what do you do next? We have seen how to activate a Rain SIM card. The next step involves inserting the SIM into a phone or into your router.
In most instances, the moment you insert the SIM into a phone, it will receive the requisite APN settings. We have previously talked about Rain APN settings for DLink routers. We also have other articles covering other types of routers.
Anyway, routers mostly do not receive Rain settings automatically. So, you will need to set things up using the information provided for your particular device. In the event that you do not have internet, then the APN settings are what you need to check out first.
Summary
In this article, we showed you how to activate your Rain steps. We outlined the steps that you need to go through to start using your Rain SIM card.
You may be interested in learning how to deactivate your Rain SIM. Perhaps you are no longer happy with their service and you wish to move on.
If you have further questions, post them on Rain discussions forum. Otherwise leave a comment below.